Ručně poskládat vyváženou sestavu, která splňuje náročné požadavky pro virtuální realitu, není vůbec jednoduché. Právě proto vám Alza.cz nabízí už hotové PC sestavy v profesionální kvalitě. Díky tomu získáte maximální možný zážitek z virtuální reality a nebudete muset řešit složité problémy s kompatibilitou. Kromě virtuální reality však sestavy nabídnou také bezproblémové spouštění všech moderních her v plné kvalitě nebo rychlé kódování videa.
Continue
Virutální Realita (VR)
Co to je?
VR je technologie, která Vám umožňuje prožívat simulaci, pohybovat a dokonce jí i měnit, jako byste byli přímo v ní.
Jaké má VR využití?
nejpopulárnější jsou hry pro VR, kde hráč hru již pouze nehraje, ale je její součástí. VR se ovšem nevyužívá jen hrách, ale i v různých aplikacích. Představte si například, že chceme postavit nový dům a s architektem se v něm můžete projít dříve, než se vůbec začne stavět. Můžete si v něm také prohlížet klasické fotografie, videa, ideální jsou však na 360° fotografie a videa. VR si našlo i využití ve výukových aplikacích např. pro sportovce či vojáky.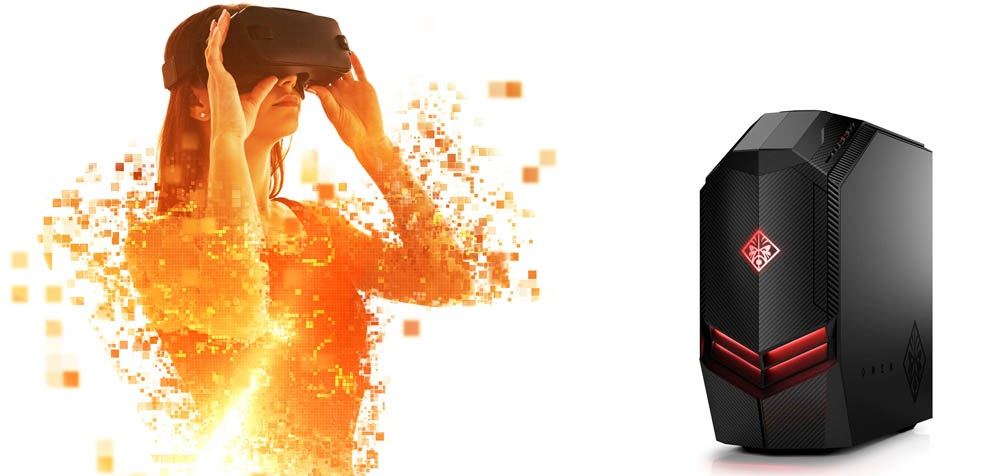 Jak virtuální realita funguje?
Základem jsou "brýle", ve kterých je jeden nebo dva malé ale kvalitní displeje, snímání pohybu se řeší více způsoby, například pomocí externích senzorů, které snímají pohyb brýlí a ovladačů.
Co potřebujete pro VR?
VR-Ready sestavu
Základní výhody VR-Ready sestav
Ohromný grafický výkon s certifikací pro virtuální realitu
Dostatek konektorů nutných k připojení VR headsetu
Herní zábava až ve 4K kvalitě na odpovídajícím monitoru
Elegantní PC skříň se správně vyladěným prouděním vzduchu
Parametry PC pro VR
Procesor (CPU)
Ve VR-Ready strojích najdete nové generace procesorů Intel Core a AMD Ryzen, které Vás svým výkonem určitě nezklamou.
Grafická karta (GPU)
Abychom se vyhnuli kompromisům, které ve virtuální realitě určitě nechceme, naleznete zde to nejlepší z nejlepších, tím jsou grafické karty NVIDIA Geforce a AMD Radeon. Tyto karty Vám zaručí ten nejlepší možný výkon pro hraní s více než dostačujícím počtem FPS.
Operační paměť RAM
Pro hladké hraní jsou stroje osazeny dostatečnou kapacitou operační paměti RAM, která Vám poskytne dostatečný prostor pro spuštěné hry a další programy.
Uložiště
Pro zajištění maximální rychlosti načítání OS i her je většina počítačů osazena rychlým SSD diskem, a protože nov hry a multimediální obsah ve vysokém rozlišení zabírá mnoho místa, často bývá v sestavách přítomen pevný disk s vysokou kapacitou.
Operační systém
Počítače jsou vybaveny moderním operačním systémem Windows 10, který zajistí nutnou stabilitu a rychlost systému a především komatibilitu s hrami pro VR a dalšími programy virtuální reality.
Hide description
Was this information useful?
This form is for collecting Feedback Only. If you have any other inquiries, please our Customer Care team here.
Is something missing or displayed incorrectly? Let us know your suggestions so we can improve the website and customer experience.
Best Deals
1.
Gaming PC - gaming, Intel Core i5 8400 Coffee Lake 4.0GHz, Intel B360, RAM 16GB DDR4 + 16GB Optane Memory, NVIDIA GeForce GTX1060 6GB, SSD 250GB + HDD 1000GB, Windows 10 64-bit
+ FREE 2 Gifts worth 2 398,-
2.
Gaming PC Intel Core i7 + 8700 Coffee Lake 4.6GHz, Intel B360, RAM 16GB DDR4 + 16GB Optane Memory, NVIDIA GeForce RTX2060 6GB, M.2 PCIe NVMe SSD 240GB + HDD 1TB, Windows 10 64-bit
+ FREE Hra pro PC Wolfenstein: Youngblood worth 999,-
3.
Gaming PC - Intel Core i5 + 9400F Coffee Lake 4.1GHz, Intel B360, RAM 16GB DDR4, NVIDIA GeForce GTX1660Ti 6GB, M.2 PCIe NVMe SSD 240GB + HDD 1TB, Windows 10 64-bit
+ FREE Poukaz GeForce Fortnite Bundle worth 899,-
Pokud sháníte pořádné herní PC, zbystřete. Alza BattleBox RTX2080Ti Ninja je nadupaný high-end herní...
Zajímali jste se někdy o údržbu svého zařízení? Trpí váš počítač přehříváním, náhlými propady&...
Podívejte se na výhodnou nabídku od MSI. Stačí zakoupit dva z vybraných produktů MSI – herní počítač a...
AI neboli umělá inteligence je termín, který slýcháme v poslední době poměrně často. Co to ale umělá...
PC pro VR (VR ready PC)
In the category PC pro VR (VR ready PC) on Alza.cz, we currently have a total of 41 products, which you can easily buy online and get quickly delivered. See all of your purchases and make orders on our easy-to-use app.
Enter product name
Note (link, Part number etc.):
Check out products sorted by price starting with the lowest price in the category cheap PC pro VR (VR ready PC)
Check out products sorted by price starting with the highest price in the category best sellers, best PC pro VR (VR ready PC)
You'll find products sorted by reviews starting from the highest ranked in PC pro VR (VR ready PC) reviews