Důležitým parametrem je zdvih kláves – je nutné si uvědomit, zdali máte raději nízký zdvih, jako je tomu u notebooků, či vyšší, jenž znáte z klasických klávesnic.
Continue
Klávesnice známe ve dvou provedeních:
Dalšími parametry je počet multimediálních a programovatelných kláves, přítomnost softwarového rozhraní výrobce, tichost a kvalita použitých spínačů, či v neposlední řadě LED podsvícení, které v některých případech bývá dokonce programovatelné. Velkým pomocníkem na LAN párty bývá rovněž přítomnost USB hubu, či sluchátkového výstupu a vstupu pro mikrofon přímo na klávesnici, takže důležité příslušenství a periferie připojíte zcela bez potíží.
Hide description
Was this information useful?
This form is for collecting Feedback Only. If you have any other inquiries, please our Customer Care team here.
Is something missing or displayed incorrectly? Let us know your suggestions so we can improve the website and customer experience.
Best Deals
1.
Gaming keyboard - mechanical, Cherry MX Red, backlit, USB out for charging your phone, metal frame, carrying case
2.
Gaming keyboard - 3 intensities and 3 settings, 19 anti-ghost keys, 12 multimedia keys, Win-Lock key, height-adjustable, 180cm braided cable, gold-plated USB connector
3.
Gaming keyboard - mechanical, wired, programmable, Kailh Brown switches, RGB backlight, compact design without numpad, metal construction, N-KEY Rollover support, US layout, USB
Herní klávesnice
Ve dnech 25.–28. 10. proběhl v Letňanech veletrh For Games. Představily se stánky technologických i...
Co je to lapboard? Lapboard je klávesnice do klína, díky níž si můžete užít hraní s klávesnicí a myší z...
Jako pomoc při výběru klávesnice jsme pro vás připravili článek, který vám představí jejich typy a některé...
Otestovali jsme pro vás počítač MSI Trident 3, který se naprosto odlišuje od ostatních herních počítačů...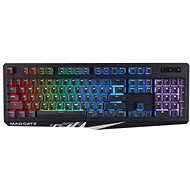 Mad Catz S.T.R.I.K.E.2 US layout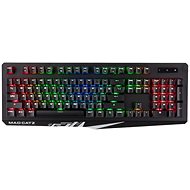 Mad Catz S.T.R.I.K.E.4 US layout
Enter product name
Note (link, Part number etc.):