Printer toners are powder refills for laser printers and copiers. Like inkjet cartridges, toner cartridges are available in several designs. If you are not sure how toner packs differ and whether to choose original or alternative toners, you can read on to find out.
Continue
What is Printer Toner, and How Does It Work?
Printer toner is black or coloured powder kept in a cartridge. A laser printer then transfers the toner powder to the paper using an optical roller. One of the most significant advantages that printer toners hold over printer ink is that toner powder does not smudge.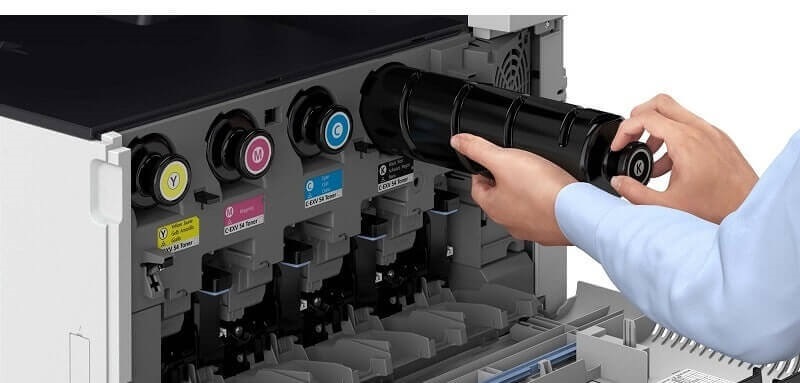 If you're interested in the other benefits of laser printers, and therefore printer toners, visit our guide, How to choose a printer.
Printer Toner in Colour?
You can choose from several printer toner colours. The basis is the black toner that comes with every laser printer. However, there are also cyan, magenta and yellow toners. Why these specific colours? A printer uses the CMYK colour system for printing, which combines these four to create all the colours.
i
You can buy printer toner cartridges individually or in multipacks. This applies to both black toner and colour variants.
What to Look for When Choosing Printer Toners
Printer Toners and toner cartridges are available in many designs. If you're faced with a choice, make sure you know what model printer you have and what colour options you need.
How Do I Make Sure the Printer Toner is Compatible with the Printer?
If you are choosing a printer toner, first find out the exact name and type of your printer. Original and compatible toner manufacturers always indicate their compatibility with specific printer models.
All toners have a list of compatible printers in the description.
If you do not know the type of your printer, look at the toner itself and write down the code on it.
How Many Pages can You Print with Your Printer Toner?
Toner yield is a figure measured in accordance with ISO standards, indicating the number of pages you print with the toner cartridge. It is usually based on 5% coverage of A4 paper.
Original Printer Toners or Compatible Alternative Toners?
Genuine toners are manufactured directly by the manufacturer of the printer. However, you can also choose alternative options, i.e. toners made by other manufacturers. What are the differences between original and alternative toner cartridges?
Genuine Printer Toners - A Sure Thing for Today's Models
Genuine toners from printer manufacturers offer maximum quality and compatibility. However, you will pay extra for branded printer toners. You may have trouble finding the original printer toner cartridge if you have an older model laser printer.
What Does Cheap Printer Toner from Alternative Manufacturers Give You?
Alternative low-cost printer toners are often compatible with older printers for which original cartridges are no longer manufactured. Another advantage is the comparable print quality. These alternative printer toners are thus quality toners at an affordable price.
Keep in mind that toner cartridges are for laser printers only. For refills of other types, visit the Printer Ink or Printer Accessories category.
Alza Printer Toners - Quality and Affordable Price
Alza Printer Toners rely on high yield and print quality but at an affordable price. We offer black and colour toners for a wide range of printer manufacturers and an even more comprehensive range of printer models.
Alza Considered the Environment when Designing Their Printer Toners
Do you try to protect the environment whenever possible? If so, use recycled and remanufactured Alza toners. How does it work? We will not throw away empty cartridges. Instead, we professionally disassemble, clean and refill the cartridges. If you want to know more about toner remanufacturing, check out the article, "Alternative toners for printers".
Printer Toners by Manufacturer
You can also choose original and alternative toners in categories explicitly designed for your printer manufacturer.
HP Printer Toners are available for the LaserJet, LaserJet Pro and Enterprise series.
Canon Printer Toners can be purchased individually or in single or multipack packs.
Toners for Epson printers are used for the AcuLaser, WorkForce, SureColor or M series.
Brother toners offer original and alternative variants for Brother DCP, HL and many other laser printers.
Samsung Printer Toners are used for Xpress, CLP or ML laser models.
OKI Printer Toners include alternative and original toners for OKI laser printers.
Xerox Printer Toners are offered for the Phaser, WorkCentre, DocuCentre or Xerox B series.
Lexmark Printer Toners are available for Lexmark B, C, MS or MX laser series.
Ricoh Printer Toners are available for Ricon SP, SGK, Afico and other laser models.
Minolta Printer Toners are meant for Minolta laser printers, i.e., the Magicolor, MC or PM series.
Kyocera Printer Toners include both original and alternative versions for the FS or Ecosys laser series.
Hide description
Was this information useful?
This form is used only for evaluating the information in the description above.
If you have any question about our products, services, transport or any other request, please contact our customer support.
What should be improved? Is anything missing here? Is anything wrong? Share it with us.
Best Sellers
1.
Printer Toner - for HP LaserJet 107a, 107w, 135a, 135w, up to 1000 pages
2.
Printer Toner - for HLL2312D, HLL2352DW, HLL2372DN, DCPL2512D, DCPL2532DW, DCPL2552DN, DCPL2552DN, MFCL2712, MFCL2732DW, MFCL2752DW, yield: up to 3000 pages
3.
Printer Toner - black, for HP LaserJet Pro M227/M203, yields 3500 pages
Printer Toners
In this article, we'll tell you everything important about printer cartridges: what a cartridge is, what...
For photo printing at home all you need is a good quality printer, a photo paper and a few seconds of your...
Printer Toners
In the category Printer Toners on Alza.cz, we currently have a total of 1799 products, which you can easily buy online and get quickly delivered. See all of your purchases and make orders on our easy-to-use app.
Printer Toners – proved brands
Enter product name
Note (link, Part number etc.):
Check out products sorted by price starting with the lowest price in the category cheap printer Toners
Find products sorted from the most expensive to the cheapest in the category most expensive printer Toners
Check out products sorted by price starting with the highest price in the category best sellers, best printer Toners
You'll find products sorted by reviews starting from the highest ranked in printer Toners reviews