Mikrovlnná trouba dokáže zastat obrovský kus práce při vaření. Výběr založte hlavně na tom, k čemu jí budete používat. Běžně dostupné mikrovlnné trouby dokáží ohřívat, grilovat, péct, rozmrazovat, vařit v páře i kombinovat několik činností najednou. Co od té své chcete vy?
Continue
Objem
Objem se pohybuje od 15 až do 50 litrů
Běžné mikrovlnky o objemu 17–19 litrů mohou mít problémy s rozmrazením větší drůbeže, s běžným ohřevem si ale snadno poradí
Pokud toužíte po grilu a přípravě pizzy, vyberte odpovídající velikost
Výkon
Ovlivňuje délku přípravy pokrmů (většinou postačí 1 000 W)
Trouby s grilem mají samostatný výkonový údaj pro gril (ideální je alespoň 1 300 W)
Základní funkce
Ohřívání - základní funkce každé mikrovlnné trouby
Rozmrazování - pro účinné rozmrazování je důležitý vhodně zvolený objem spotřebiče
Speciální funkce a vybavení
Gril - u

možňuje potraviny nejen ohřívat, ale také opékat; ideální pro rozpékání pečiva či zapékání těstovin

Pečení - díky této funkci dokáže mikrovlnná trouba zcela nahradit klasickou troubu
Crisp (křupavé opečení) – skvělé pro přípravu hranolek a pizzy
Jet Defrost – funkce, která zkrátí čas potřebný pro rozmrazení potravin až 7krát
Kombinovaná příprava - vhodná na přípravu pokrmů, které chcete současně opékat a ohřívat (pizza, lasagne apod.)
Vaření v páře

–

zdravý způsob vaření, který uchovává až o polovinu více vitamínů
Zapékací talíř – umožňuje opečení z obou stran – ideální pro přípravu křupavého pečiva
Rošt – umístí se na otočný talíř a umožní opékání potravin z obou stran (pouze u mikrovlnky s grilem)
Hide description
Was this information useful?
This form is for collecting Feedback Only. If you have any other inquiries, please our Customer Care team here.
Is something missing or displayed incorrectly? Let us know your suggestions so we can improve the website and customer experience.
Best Deals
1.
Microwave - 700W microwave power, 17L volume, 5 power levels, defrost function, 30 min timer, 24.5cm turntable plate
2.
Microwave - 800W, volume 23l, electronic control + rotary switch, ceramic inner surface, 6 power levels, 3 programs for automatic defrosting
3.
Microwave - Microwave power 700W, volume 17l, 5 power levels, defrost function, timer 30min., Rotating plate diameter 24.5cm
Mikrovlnné trouby
Společnost Hoover přichází s lákavou nabídkou pro všechny, kteří řeší nákup nových kuchyňských spotřebičů...
Mikrovlnka nám dokáže ušetřit spoustu času a práce, ale nesmíme zapomínat na její pravidelné čištění...
Emanuele Ridi je denně v kuchyni, ne proto, že by musel, ale proto, že ho to baví. Ke své práci potřebuje...
Chcete si zjednodušit život? Chcete, aby vaše domácnost myslela za vás? Podívejte se s námi do Domu snů, v...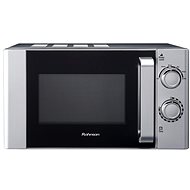 ROHNSON R-2037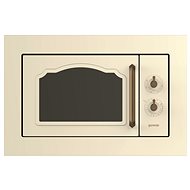 GORENJE BM235CLI
Mikrovlnné trouby
In the category Mikrovlnné trouby on Alza.cz, we currently have a total of 220 products, which you can easily buy online and get quickly delivered. See all of your purchases and make orders on our easy-to-use app.
Enter product name
Note (link, Part number etc.):
Check out products sorted by price starting with the lowest price in the category cheap mikrovlnné trouby
Check out products sorted by price starting with the highest price in the category best sellers, best mikrovlnné trouby
You'll find products sorted by reviews starting from the highest ranked in mikrovlnné trouby reviews